To order Bring 'Em Back Alive click here

Frank Buck Stopped Here
Revived Interest in a Hero of the Wild
by Fred Bruning
Staff Writer
NEWSDAY p B3
SEPTEMBER 28, 2000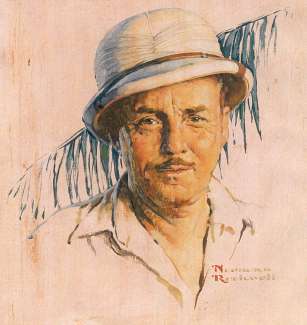 CAROL Giannattasio's dining room table is a sight and she knows it. By the time her husband, Thomas, a pediatrician, gets home for dinner, the pile of papers and keepsakes will be stowed, but for now, chaos pleasantly prevails and Carol continues her reverie about the Other Man--the dashing fellow with mustache and pith helmet whose face appears on dozens of posters, advertisements and photographs strewn over the tabletop.
"I'm totally obsessive," she says.
Happily, her passion is not the sort to spoil a 21-year marriage. "Could be worse," said Carol Giannattasio, 51, of Massapequa. "The man's dead. I'm not running off with him." Frank Buck, the dearly departed, surrendered to lung cancer in 1950 at the age of 66--an original American action hero who plunged into the wild and crawly jungle to track animals, capture the critters and, of course, bring 'em back alive.
From the 1920s to the '40s, when World War II intervened, Buck, a Texas boy who yearned not so much for wide open spaces but for steamy thickets where lions roared and monkeys frolicked, made a name for himself by collecting animals for zoos in the United States and around the world.
His fearless exploits led to books, movies, a radio show and a tour with Ringling Bros. and Barnum & Bailey Circus. As late as the 1980s, there was a television program based on Buck's experiences. In a pantheon of early pop culture icons that included Babe Ruth, Charles Lindbergh, Red Grange and Jack Dempsey, Buck belonged.
Fans remember him as a devoted conservationist--Buck fretted often about the survival of rare species--and intrepid adventurer, whose deeds in Sumatra, Borneo, India and the Philippines wowed folks at home who were no more likely to trap a tiger than cannonball over Niagara Falls.
"When I was 10, I read the stories," said Steven Lehrer, editor of a new edition of selections from Buck's writings, "Bring 'Em Back Alive: The Best of Frank Buck" (Texas Tech University Press, $28.95). "It was the high point of my childhood. His strength, his courage, the tremendous challenges and the odds he faced. It made a huge impression on me." For Giannattasio, there was something else: Frank Buck had a local connection.
At the 1934 World's Fair in Chicago, Buck opened a "jungle camp" that drew 2 million visitors. When the fair closed, he brought the animals to Massapequa--Buck called it Amityville--where he owned land abutting Sunrise Highway and opened "Frank Buck's Jungle Camp," which he operated for several years.
By the time Carol Giannattasio's father, Bob Starcke, a telephone company engineer, took his 5-year-old daughter for a look at the compound, the zoo was smaller and operating under another name. But Starcke knew the straight story.
"That's Buck's place," he said, telling his little girl about the legendary hero of the wilds and the animals he brought back.
In the distance, Giannattasio recalled, was Monkey Mountain--a pre-Disneyland Matterhorn surrounded by a moat that was the site of one of Long Island's great escapes. Shortly after Buck opened his camp, 150 of 500 rhesus monkeys living on the mountain organized a make-do liberation movement.
According to a news account, a workman left a plank over the moat and the animals swiftly seized the moment. Most of the monkeys survived--Sunrise Highway was not yet the commuter's version of a NASCAR speedway nor had the SUV been invented--and were returned to the camp by police and neighbors.
Like others in Massapequa, Giannattasio began accumulating Buck memorabilia.
Her collection--lately upgraded by items bought on an Internet auction site--includes a pencil case, 16mm films, trading cards, classic comics, tickets to Buck's exhibit at the 1939 New York World's Fair, a straw souvenir pith helmet, a black and white glossy photo of tourists riding an elephant at the Jungle Camp (in the background, a sign on Frank Buck's restaurant promises "best 75-cent dinner on L.I."), advertisements for tires, .22-cal. rifles and cigarettes. "Frank Buck has smoked his way around the globe with Camels," reads a piece of copy that now seems anything but upbeat, given the condition that claimed his life.
Giannattasio describes herself as a woman of many interests. Prominent among them are the Brooklyn Dodgers: a picture of Jackie Robinson hangs in the living room near a Ringling Brothers circus poster.
But her fondness for Frank Buck was special and had to do with memories of childhood, tales told by her parents (her mother, Jeanne, who died this year in Florida, at age 76, once met Buck in Indiana) and an inevitable sense of nostalgia.
Could there be a Frank Buck now? Giannattasio doesn't think so. "It's a life no one could live anymore," she said. "The worlds to conquer now will be in cyberspace." But what of the world of imagination? Steven Lehrer hopes it still exists for 21st-Century children as it did for him.
A physician at the Veterans Affairs Medical Center in the Bronx who serves as associate professor of radiation oncology at Mount Sinai Medical School, Lehrer, 55, came across a used copy of Buck's "Bring 'Em Back Alive" in the late 1980s.
Recalling how the stories thrilled him as a boy, Lehrer wondered if there was a new market for the material. He contacted Frank Buck's only child, Barbara, secured the rights and pursued publishers.
The big New York houses weren't interested. But Lehrer persisted and finally turned to Texas, where Buck may be remembered best. A zoo is named for him in his childhood home of Gainesville north of Dallas, and Shana Powell, curator of the Morton Museum of Cooke County, said she gets at least one inquiry a month about the famous former resident. "A lot of time people fantasize about adventure, but most of us don't have the courage to step out and do that," she said.
Lehrer contacted the Texas Tech University Press in Lubbock, which was immediately interested in his idea and, this year, published Lehrer's collection of Buck pieces. In his introduction, the doctor quoted a 1930 review saying Buck's stories were for anyone "who likes being made to sit on the edge of his chair and gasp for breath as his eyes eat up the print to see what happens next." Judith Keeling, editor of the Texas Tech Press, said the pieces still have power. "These stories capture an era in an uncommon way," Keeling said. "They really put you there." And that is just what America needed in the early '30s--a transporting experience. Barbara Buck, 69, said her father's stories gave the country a boost during tough times. "He was doing his thing in the Depression," she said in a phone conversation from Houston. "People weren't going anywhere. Money was tight. It was an escape." Buck's daughter has written a short recollection of her father that will be included if there is a second printing of the Lehrer book. She referred to Buck's devotion to animals and the rigors of his life. "Of course, these difficulties translated to good stories, and Dad always had many new ones," she wrote.
Despite Frank Buck's humane treatment of animals, his daughter said, she did not want to be identified by her married name so as not to risk being harassed by militant elements of the animal-rights movement. Some activists object vigorously to removing animals from their habitat because it separates the creatures from "family" and places them in unnatural settings associated with zoos, circuses and nightclub acts.
"I think Frank Buck probably was doing what he thought was right back then," said Mary Beth Sweetland, director of research, investigations and rescue at national headquarters of People for the Ethical Treatment of Animals in Norfolk, Va. But, she said, Buck had it wrong. "He certainly didn't do the animals any favor," she said.
PETA is the controversial group that recently spoofed dairy industry advertisements with a billboard in Wisconsin showing Mayor Rudolph Giuliani with a milk mustache. "Got Prostate Cancer?" the sign read, referring to the illness Giuliani is battling.
Lehrer said objections to Buck are misplaced. The adventurer was ahead of his time in his treatment of animals, said the doctor, and showed respect for the creatures he supplied to clients. In addition, he said, Buck provided monkeys for medical research--a vital enterprise, Lehrer said, though one now opposed by many animal protection groups.
Specifically, said Lehrer, monkeys captured by Buck were used for experiments that led to the defeat of polio. "That was his contribution to medicine," said Lehrer: No apologies necessary.

Buck's adventures rolled into one
Dallas Morning News
07/30/2000
By Tom Dodge
Bring 'em Back Alive: The Best of Frank Buck
Edited by Steven Lehrer
(Texas Tech University Press, $28.95)
Between 1910 and 1940, when Frank Buck, the big jungle man, did most of his work, cruelty toward wild animals was generally condoned in the name of "hunting" or "sport."
That his trademark motto, "Bring 'em back alive," made him famous, however, indicates that even in his day human consciousness was high enough to appreciate his respect for animals. Today this consciousness is so widespread that no one could become a hero of his stature by trapping jungle animals for profit.
But he understood animals and respected them, even displayed toward them the care of a mother for her child. When they were injured or sick, he personally tended them, a risky business. A 600-pound tapir he was treating almost killed him. A python saw him as a meal, and a cobra spewed deadly venom in his eyes. Attacked by another cobra, he threw his coat over the snake and pounced on it. He held it beneath him as it wriggled to get free until aides could get a grip on its head and pull it out, like a bird extracting a worm from the ground. The python that had him in its grip was one of the very few he had to kill. He managed to get one arm free enough to reach his sidearm; then he put three rounds in the giant reptile's brain.
From his headquarters at the Raffles Hotel in Singapore, he operated a collecting network that spanned the lush jungles of Malaya, Borneo, Sumatra and India. Over the years, he brought back hundreds of thousands of birds and animals of all kinds for sale to zoos, circuses and private collectors. In 1922, he provided Dallas with an entire zoo of more than 500 specimens. In 1948, he returned to his hometown of Gainesville, Texas, to dedicate the Frank Buck Zoo and the Frank Buck Zoological Society.
From Mr. Buck's eight books, Steven Lehrer has selected the "best" of the material. He has fine sensibilities as an editor. However, the books are so full of good, old-fashioned, movie-serial-type adventures in wild, exotic settings, that Mr. Lehrer could have closed his eyes and picked 19 chapters that would make a good collection. The surprising thing is that, until now, no one else has.
What few could have done better, however, is write the illuminating introduction summarizing Mr. Buck's early interest in animals and birds as a boy in Plano and along Turtle Creek, and his brief dalliance with crime, marriage and other enterprises before setting out on his lifelong search for "the source of the wind, the mouth of the river, the oceans to which the fish swam, and the far lands to which the birds flew."
Free-lance writer and reviewer Tom Dodge lives in Midlothian; his new book is Tom Dodge Talks About Texas.

San Antonio Express-News
November 12, 2000, Sunday , METRO
SECTION: BOOKS; Pg. 6G

Picture a cross between Clark Gable and that excitable Australian fellow who frolics with alligators on cable TV, and you get something of a picture of Frank Buck (1884-1950). Born in a Gainesville, Texas, wagon yard, Buck grew up in Dallas before setting out on a globe-spanning odyssey, capturing wild animals for U.S. zoos and circuses. He became famous in the 1930s for several books that described - in lively, muscular prose - his exploits with "man-eating" tigers, king cobras, elephants, tapirs and so on. A Buck fan from boyhood, Steven Lehrer has selected his favorites for "Bring 'Em Back Alive: The Best of Frank Buck." The title was Buck's nickname.

- Gene Fowler

Copyright 2000 Sun Media Corporation
The London Free Press
October 7, 2000, Saturday, Final EDITION
SECTION: ENTERTAINMENT, Pg. C6, BOOK REVIEW

HEADLINE: CLEARING OFF THE BOOKSHELF

BYLINE: JERRY GLADMAN, BOOK REVIEW EDITOR, THE LONDON FREE PRESS

BRING 'EM BACK ALIVE: THE BEST OF FRANK BUCK

EDITED AND INTRODUCED BY STEVEN LEHRER

TEXAS TECH UNIVERSITY PRESS, $ 28.95

While most of today's kids never heard of adventurer Frank Buck, there's little question he was the Indiana Jones of his time.

In the '30s, the stories by this intrepid Texas animal collector and adventurer delighted generations of boys. The creator of the Dallas Zoo in the '20s, he was a hero who ranked up there with such stalwarts as Babe Ruth, Jack Dempsey and Charles Lindbergh.

Moreover, following publication of Bring 'Em Back Alive in 1930, the powerful and dashing Buck jumped from published page to silver screen and played himself in two movies -- Wild Cargo and Fang and Claw.

The mustachioed Buck, always appearing in his traditional pith helmet, spent his life capturing every known creature, from birds to elephants to snakes. But he also learned to build snares and traps in ways that prevented injuries to his quarry.

This expanded edition of the original book captures not only Frank Buck at his best, but will give readers a taste of the glamour, excitement and lifestyle of his era.

CHOICE
November 2000, p 554
History of Science & Technology
38-1532 QL61 99-86898 CIP
Buck, Frank. Bring 'Em Back Alive: The Best of Frank Buck, ed. by Steven Lehrer. Texas Tech, 2000. 248p bibl index afp ISBN 0-89672-430-1, $28.95
In many ways, this is a delightful book. Buck was a familiar and heroic figure to many growing up in the 1930s and 1940s; the numerous illustrations recapture those days. The great zoos of the day owed much to him, partly for the specimens he obtained for them but even more for the publicity he generated and shared. His exploits could not and should not be repeated today, but that should not detract from the sense of adventure his stories evoke. His persona was mirrored in the white hunter in King Kong (the Fay Wray version), but his real life adventures were even more thrilling. The comments by Lehrer (Mount Sinai School of Medicine) are interesting and useful, and his choices of episodes from various of Buck's books are well done. All in all, this is an extremely entertaining book, illustrating a different time and written in a way that brings that time to life. General readers. -F W. Yow, emeritus, Kenyon College

Bygone Days of Legendary Zoo Trapper Revisited
Review by Jim Williamson
October 20, 2000
GUN WEEK
From 1910-1940, Texan Frank Buck was the best known dealer in wild animals in the world. The 1913 death of Carl Hagenbeck, his celebrated German rival, left Buck supreme in the field.
He filled zoos around the globe. In 1922, Buck alone outfitted the Dallas Zoo with over 500 exhibits. From his home base in Singapore, Buck ventured throughout Malaya, India, Sumatra, Java, and elsewhere in a quest for beasts, both common and exotic.
Not surprisingly, Buck had his share of adventures. In time, he published several books, co-written with authors more used to dealing with the written word. But these books have long been out of print and are difficult to find.
Now Steven Lehrer, a professor of oncology who grew up with Buck's books, has just edited a series of excerpts from them, and released it under the title probably best known from the original series. Bring Em Back Alive is printed by Texas Tech University Press, and will soon be in stock at major booksellers.
Exciting Tales
In preparing this work, Prof. Lehrer pored over Buck's eight books, selecting what he felt were the most exciting tales for the anthology. Anyone who has read Buck's writings will have an idea of what a difficult task he faced in winnowing those chapters from such rich sources of peril and deliverance!
But winnow he did, and the result is 248 pages of genuine thrills that will be familiar to many Gun Week readers, and new to others. Chances are all will enjoy (or re-enjoy) the text. Old photos enhance the words, and evoke the flavor of a bygone colonial era in Asia.
Veterans of Buck's prose will delight in episodes involving a murderous tapir, an escaping cobra, and a proboscis monkey that died of apparent heartbreak. One favorite deals with a marauding tiger, a man-eater trapped by the author.
The Guns
This being a gun publication, we probably ought to touch on the firearms carried by Buck. Alas, he didn't go into much detail, but did mention his Savage .300, used with 180-grain bullets, which was a bit on the light side for tigers or large wild cattle! Photos show his revolver on a belt, but not well enough to identify it. A good guess based on the shape of the grip and a gold seal (?) at top suggest an S&W .44 or .45, perhaps an early .38/44 Heavy Duty.
One bit seems odd: in commenting on another man-eater, Buck hoped that its score of 35 people would never be equaled by other cats. Considering that one tiger shot by Jim Corbett ate at least 436 persons, and that others easily exceeded 100, with certain leopards also running up high tallies, this will baffle some. The answer is that Buck wrote before Corbett or Kenneth Anderson's books appeared.
Buck was also a pioneer in filming wildlife, and his deeds in this arena are chronicled. A real coup involved a fight between a black leopard and a hungry python. These films played in many theaters in the US, and will be recalled by most Americans of the World War II generation. Details are provided in the book.
Bring 'Em Back Alive: The Best of Frank Buck recalls a bygone era, brought to life in the deeds of a trapper whose life was legend in a day when men were men, and readers were durned glad of it!

BRING' EM BACK ALIVE: THE BEST OF FRANK BUCK introduced and edited by Steven Lehrer. Texas Tech University Press, 2000. 248 pp., hardback. ISBN 0-89672-430-1. $28.95.

Steven Lehrer, an associate professor of radiation oncology at Mount Sinai School of Medicine, has been a lifelong fan and admirer of the legendary hero and wild animal trapper, Frank Buck. In this anthology, Lehrer introduces a well-paced selection of Buck's writings, with just the right balance of tension, pathos, humour and excitement. He also cogently explains the contribution that Buck made to conservation and zoos around the world with his shared publicity.

Buck embarked on his collecting career in 1911 when he won $4,500 in a poker game. At the time, Carl Hagenbeck in Hamburg was the leading contractor to the world's zoos. Hagenbeck's death in 1913, and the outbreak of World War I a year later, precluded many clients from having further dealings with the German organization, thus providing the opportunity and demand to fuel Buck's enterprise. By the 1920s the name of Frank Buck was known to zoo directors around the world, and in 1922 he single-handedly provided the entire stock of over 500 animals for Dallas Zoo. During the construction stage he was also the temporary director of San Diego Zoo.

Bucks' adventures were framed in the exotic jungles and ports of the Far East, a canvas conjuring excitement and intrigue, at a time when piracy was still a trading option in the Java seas and Malacca Straits. Head-hunting, too, was a popular pastime among the more remote tribes in the territory. Buck's contemporaries in the wilds were the forestry officers, overseers on rubber plantations, district officers and tea planters, all of whom had forsaken the comforts of the city for a testing challenge on the edge of civilization. In the Singapore environs his life revolved around the care of captive animals at his Katong camp and the glamour and romance of the Raffles Hotel, a crossroads for globe-trotting adventurers, socialites and far-eastern nobility.

Capturing wild animals for zoos in Buck's day was fraught with perils both financial and physical. He was almost ruined in 1928 when an entire shipment was washed overboard during a raging tropical typhoon. The trapping of more dangerous specimens without causing them injury often required the intrepid collector to work at uncomfortably close quarters, utilising his remarkable skills with ropes and lasso. His was a demanding hands-on job, requiring patience and stamina, unaided by jet-age know-how or tranquillizer technology. He knew the trials of transportation on bullock carts floundering in the mire from monsoon torrents, and rail cargoes torpedoed by washouts and floods, forcing him on one occasion to swim an elephant to its destination. Little surprise that enthralling adventures ensued in such conditions, particularly when one of his dangerous captives through some misadventure gained its freedom. During these episodes his confidence was never shaken; he preferred to take a calculated risk rather than resort to the use of firearms. Subsequently, even the most notorious escapees were finally delivered in good condition, including king cobras, leopards and hordes of primates.

Frank Gibbons, a war correspondent friend, persuaded Buck to put his experiences in print, resulting in the publication in 1930 of Bring 'em Back Alive, which made its author an instant celebrity and hero to be ranked with Charles Lindbergh, Jack Dempsey and other icons of the day. In all, he wrote or co-authored seven books, several of which earned him even greater fame when they were transferred to the movie screen. His name lives on in the Frank Buck Zoo, Gainesville, Texas, opened in 1948. Buck's type of business couldn't--and shouldn't-- exist today. Suffice to say that the action man with the Errol Flynn moustache and pith helmet was a unique product of his time!

Mike LeVine
Auckland Zoological Society
International Zoo News
October 2001