To order Hitler Sites ($55) click here

Köpenickerstraße 24, Kreuzberg.
Victoria-Speicher I (destroyed warehouse, memorial plaque).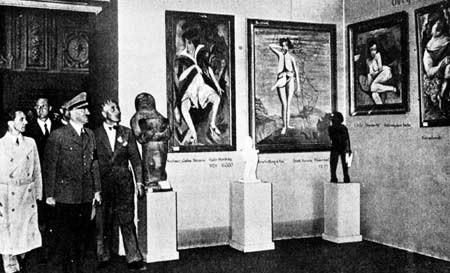 Hitler, Goebbels, and Adolf Ziegler view exhibit of degenerate art.
From 1937 to 1939, the Nazis used a building on this site to store "degenerate art." The Aktion Entartete Kunst had confiscated this art: 16,558 expressionist, abstract, and socially critical works, as well as the works of Jewish artists. A plaque commemorates the closing of the warehouse on March 20, 1939. The building itself was destroyed during the war.

In summer 1937, Joseph Goebbels' degenerate art commission canvassed Germany, searching public and private collections. Propaganda office officials seized the works of Otto Dix, Oskar Kokoschka, Erich Nolde, Ernst Ludwig Kirchner, Max Pechstein, and Käthe Kollwitz, among others. Especially hard hit was the modern art division of the Berlin National Gallery, which lost 136 paintings, 28 sculptures, and 324 drawings.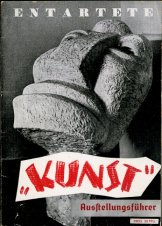 Goebbels first visited the warehouse on November 4, 1937. The painter Adolf Ziegler, President of the Reich Chamber of Artists, and architect Albert Speer accompanied him. In his diary, Goebbels wrote, "Very few borderline cases. The rest is such dreck that a three hour visit makes one sick."

In order to convince Hitler to legalize the confiscations that had already taken place, Goebbels gave him a tour of the warehouse on January 13, 1938. "No picture was acceptable," wrote Goebbels in his diary. "Führer also wants no compensation paid to the owners. We will exchange a few of the works outside of Germany for real masterpieces."

On May 31, 1938, the seizure without compensation of degenerate art was legalized ex post facto. At the same time, avant-garde artists living in Germany were forbidden to paint. To obtain foreign currency, four German art dealers were appointed to find foreign customers for some of the degenerate art. Most of the remainder was sent to a gallery in Lucerne for international sale. Before shipment, the works were displayed in the rooms of a castle, Schloß Niederschönhausen.
Franz Hofmann, the director of fine art and art critic of the Völkischer Beobachter, recommended that "the worthless, unsalable remainder be dumped in a trash heap and symbolically burned," Goebbels wrote. "I should also deliver a peppery eulogy."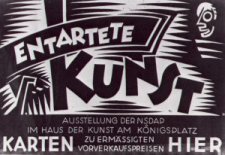 But Goebbels reserved many works for an "instructional" and propaganda exhibit, "Degenerate Art," which traveled to large German and Austrian cities. From February 26th to May 8th, 1938, the works were on display in Berlin, at the "Haus der Kunst," Königsplatz 4.

The exhibit catalogue is a rarity today. It disparaged the anti-war pictures of Otto Dix as "defense-sabotage." A painting by a schizophrenic in a mental hospital "looks more human than any concoction of Paul Klee." A painting by Kurt Schwitters was "the height of stupidity or impudence--or both." But one German commented, "the Nazis, in spite of themselves, gave us the chance to become acquainted with the crème of modern art, all in one place."