In 1937, when Frank Buck came to California to make Jungle Menace, he decided to settle down. As he wrote in his autobiography All in a Lifetime (1941):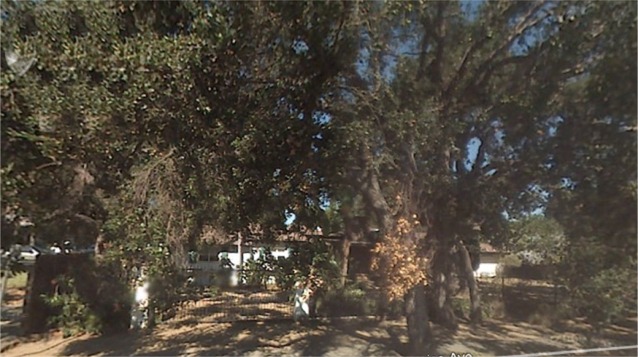 5035 Louise Avenue
"In the heart of Encino in the sunny San Fernando Valley I found exactly what I wanted—three and a half acres of oranges, lemons, limes, Japanese persimmons, avocadoes, pomegranates, pears, peaches, walnuts, and almonds. The low, rambling, ranch-type house of Monterey style was surrounded by six gigantic, ancient live oaks. It was a real home—not pretentious, but comfortable—and I bought it at once with the feeling that I was settled."
The house, at 5035 Louise Avenue, had been built in 1933. It had 2,128 square feet, four bedrooms, and three baths. Buck proceeded to furnish the modest dwelling to his taste.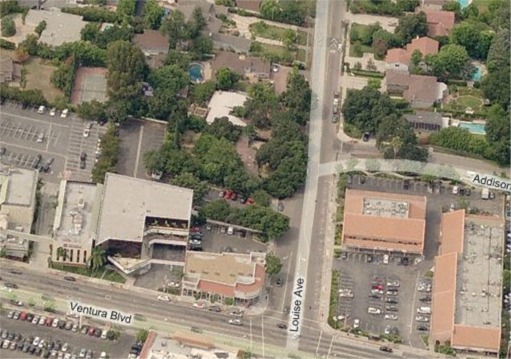 Louise Avenue. Frank Buck's house is at center.
"Into the house, along with new and modern pieces in certain rooms, I moved furniture I had bought in Asia and had had in storage for the past ten years—rare furniture from China, Siam, and India—fine, hand-carved pieces of teak, ebony, and lacquered hard woods made by masters of the Oriental art of carving. In the rear yard, under the shade of the great trees, I had built the aviaries I had dreamed of in the old Chicago days at Norwood Park—immense aviaries planted with trees and shrubs and vines so that the birds would feel at home and would breed. And I stocked my eighty-foot cages with Australian king parakeets, crimson-winged and hooded parakeets, my favorite fairy bluebirds, African touracos, Leadbetter cockatoos, Argus pheasants, and a dozen other beautiful varieties of bird life."
But Buck's idyll was short lived.
"And then, just as I had sat down in comfort in my dream house to watch my flowers blossom, my trees bud, and my birds breed, I received a telephone call from John Ringling North, head of the Ringling Brothers-Barnum and Bailey Circus. He wanted a feature attraction for the coming year, and was I interested?

"I am not," I told him. "For the first time in my life I have a real home and am doing exactly what I want to do."

"I think I can make it worth your while, Frank," he tempted. "Anyhow, come down to Sarasota, our winter quarters, for a week at my expense and we'll talk it over. It's just as warm in Florida as in California, and the trip"—he chuckled as he said it—"will do you good. You haven't been traveling enough lately to keep you in shape."
"I went."
Frank Buck became the featured 1938 attraction of The Ringling Brothers Circus.