THREE PLAYS ABOUT DOCTORS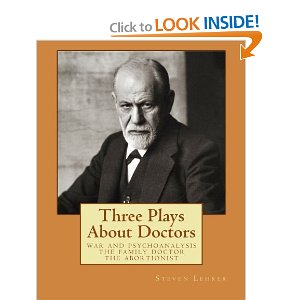 War and Psychoanalysis
The Abortionist
WAR AND PSYCHOANALYSIS is the story of Sigmund Freud's efforts to learn if a famous patient, the Rat Man, was circumcised.
THE FAMILY DOCTOR is Dr. Eduard Bloch, the Jewish poor people's doctor, who cared for Klara Hitler, Adolf Hitler's mother, in 1907, in Linz, as she was dying of breast cancer. Thirty years later, after Hitler had annexed Austria, Hitler protected Bloch. But Bloch was reluctant to give up Klara's medical record and two postcards Hitler had sent him in 1907. Would Bloch, the only Jew that Hitler protected from Hitler, be murdered for his disobedience?
THE ABORTIONIST is the drama of an abortion doctor, his new wife, and the anti-abortion activists trying to shut him down and murder him: a battle over abortion fought to the death.
To download Three Plays about Doctors as pdf click here
To order Three Plays about Doctors from amazon.com click here