Producers Releasing Corporation
From Wikipedia, the free encyclopedia.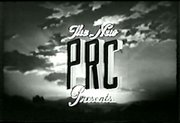 One of the larger Hollywood production conglomerates of Poverty Row of the late 30s-mid 40s, which made the Frank Buck movie Tiger Fangs. Along with Republic Pictures and Monogram Pictures and smaller companies, PRC, as it was commonly known, intentionally shot mostly low-budget B-movies. Still, the company was substantial enough not only to produce but also to distribute its own product and some imports from the UK, and operate its own studio facility.

The company loosely evolved from the earlier Producers Distributing Corp. (PDC) of Ben Judell, which had hired brothers Sigmund Neufeld and Sam Newfield to make its films. (Sam Newfield directed Frank Buck in Tiger Fangs.) After the collapse of PDC, the brothers established and ran PRC, which was later bought up by Pathé Industries Inc., though the only noticeable change was of the name of the company's production arm to P.R.C. Pictures Inc. The company otherwise continued to flourish within its own element until after World War II. The distribution arm of the company was absorbed in the formation of Eagle-Lion Films Inc. in 1947, and the production arm (and, therewith, the entire company) followed shortly thereafter.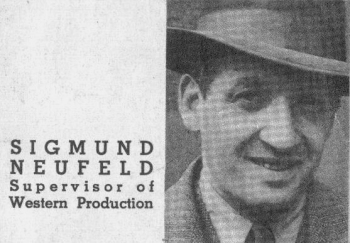 Most of the movies PRC made were westerns or action melodramas, plus an occasional horror movie, and took a week or less to shoot. German director Edgar G. Ulmer began working for the studio in 1942 and directed three films noir there - Bluebeard (1944), Strange Illusion (1945) and Detour (1945) - which have been recognized more recently as minor artistic achievements. MGM picked up another of their productions, Hitler's Madmen, for distribution, and one of their regular music composers, Leo Erdody, was nominated for an Academy Award for his musical score for PRC's Minstrel Man in 1944.

Retrieved from "http://en.wikipedia.org/wiki/Producers_Releasing_Corporation"