To order Bring 'Em Back Alive click here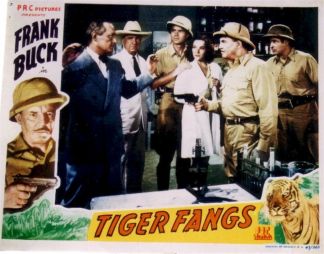 Frank Buck confronts the Nazi Dr. Lang: Launch Real Player
This option requires Real Player.
Click here to download Real Player


Launch Windows Media Player
This option requires Microsoft's Windows Media Player. Click here to download Windows Media Player
In Tiger Fangs (1943) Frank Buck takes on a gang of Nazi malefactors. The teutonic villains have been plying Malayan tigers with drugs, making the beasts even more vicious than usual. The evil Dr. Lang (Arno Frey) and his henchman Gratz (Dan Seymour) plan to deplete the Allies' wartime rubber supply by inducing the tigers to kill natives harvesting the sap. With the help of beautiful Linda McCardle (June Duprez), Linda's father Geoffrey (J. Farrell McDonald) and handsome Peter Jeremy (Howard Banks), Frank Buck strikes a blow for Democracy and drug-free tigers.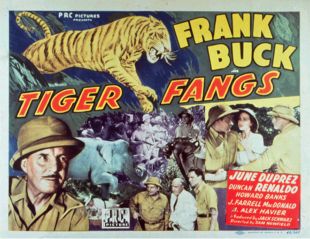 "The animal shots are eye-filling, as usual, and especially well photographed...Sam Newfield directed with a good sense of melodramatic action, and it is Mr. Buck himself who gives the stand-out performance. The jungle fellow is a right natural actor." Irene Thirer, New York Post, November 24, 1943.
Note: in the video clip above, chindags are evil humans who assume the form of wild animals, in this case, tigers.