from Introduction to Bring 'Em Back Alive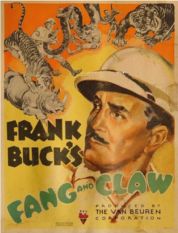 Shortly after writing his first book, Bring 'Em Back Alive, Buck arranged with RKO to make a movie of it. In 1931, he traveled to the Far East with a movie crew and shot 125,000 feet of spectacular film. When released in 1932, the film version of Bring 'Em Back Alive was a blockbuster. A total of 82,660 persons saw Bring 'Em Back Alive during its first seven days, reported New York's Mayfair Theater, 6,300 over the attendance mark for the first week of Frankenstein, which held the previous high record for the theater.

Buck's second and third books, Wild Cargo and Fang and Claw, were made into movies, starring, of course, Frank Buck. These were followed by another movie, Jungle Cavalcade, a compilation of footage from the first three films; and a serial released by Columbia Pictures, Jungle Menace. In 1949, Buck appeared as himself in the Abbott and Costello feature, Africa Screams. He was also the model for the jungle film director Carl Denham (played by Robert Armstrong), who brings Fay Wray to Skull Island in King Kong.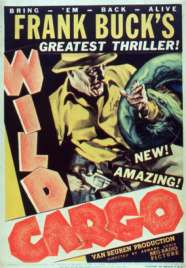 In his later films, Buck tried to avoid his early mistakes. In Bring 'Em Back Alive, in a famous sequence, a tiger and a python lock in mortal combat. But after considerable intercutting, the two combatants simply walk (or slither) away from one another, leading some viewers to suspect that the outcome had been rigged. One wag suggested that the tiger had not torn the python to pieces because he had left his false teeth at home. Thus when Buck subsequently filmed a battle between a black leopard and a python for Wild Cargo the scene is continuous, with no intercutting, and the python finally crushes the leopard to death.


BRING `EM BACK ALIVE:
THE JUNGLE ADVENTURES OF FRANK BUCK
was an NBC syndicated radio show, produced by the A.C. GILBERT COMPANY, Sundays 5:45 - 6:00 pm. The show promoted Frank Buck's film Bring 'em Back Alive. The first two episodes were

"THE GHOST TIGER OF SUNGAI" broadcast date October 30, 1932
Launch Real Player
Launch Windows Media Player

"THE GIANT JUNGLE MAN" broadcast date November 6, 1932
Launch Real Player
Launch Windows Media Player
The Ghost Tiger of Sungai (originally called Drums) and The Giant Jungle Man are in Frank Buck's book Fang and Claw. (The voice in the two recordings is not Frank Buck's.)